DSG Gearbox- Direct Shift Gearbox.
A direct-shift gearbox commonly abbreviated to DSG is an electronically controlled dual-clutch[2] multiple-shaft gearbox in a transaxle design, with automatic clutch operation and with fully automatic[2] or semi-manual gear selection. The first actual dual-clutch transmissions were derived from Porsche in-house development for their Model 962 racing cars in the 1980s.
In simple terms, a DSG gearbox automates two separate "manual" gearboxes (and clutches) contained within one housing and working as one unit.
It was designed by BorgWarner and is licensed to the Volkswagen Group, with support by using two independent clutches, a DSG can achieve faster shift times and eliminates the torque converter of a conventional epicyclic automatic transmission.
Transverse DSG
At the time of launch in 2003, it became the world's first automated dual-clutch transmission in a series-production car, in the German-market Volkswagen Golf Mk4 R32, and shortly afterwards worldwide, in the original Audi TT 3.2 and the 2004+ New Beetle TDI.
For the first few years of production, this original DSG gearbox was only available in transversely oriented[2] front-engine, front-wheel-drive and Haldex Traction-based four-wheel-drive vehicle layouts.
The first DSG transaxle that went into production for the Volkswagen Group mainstream marques had six forward speeds (and one reverse) and used wet/submerged multi-plate clutch packs.
It has been paired to engines with up to 350 N⋅m (260 lb⋅ft) of torque. The two-wheel-drive version weighs 93 kg (205 lb). It is manufactured at Volkswagen Group's Kassel plant, with a daily production output of 1,500 units.
At the start of 2008, another world-first 70 kg (150 lb) seven-speed DSG transaxle  became available.
It differs from the six-speed DSG, in that it uses two single-plate dry clutches (of similar diameter). This clutch pack was designed by LuK Clutch Systems, Gmbh. This seven-speed DSG gearbox  is used in smaller front-wheel-drive cars with smaller-displacement engines with lower torque outputs, such as the latest Volkswagen Golf, Volkswagen Polo Mk5, and the new SEAT Ibiza.
It has been paired to engines with up to 250 N⋅m (180 lb⋅ft). It has considerably less oil capacity than the six-speed DQ250; this new DQ200 uses just 1.7 litres of transmission fluid.
In September 2010, VW launched a new seven-speed DSG gearbox built to support up to 600 N⋅m (440 lb⋅ft), the DQ500.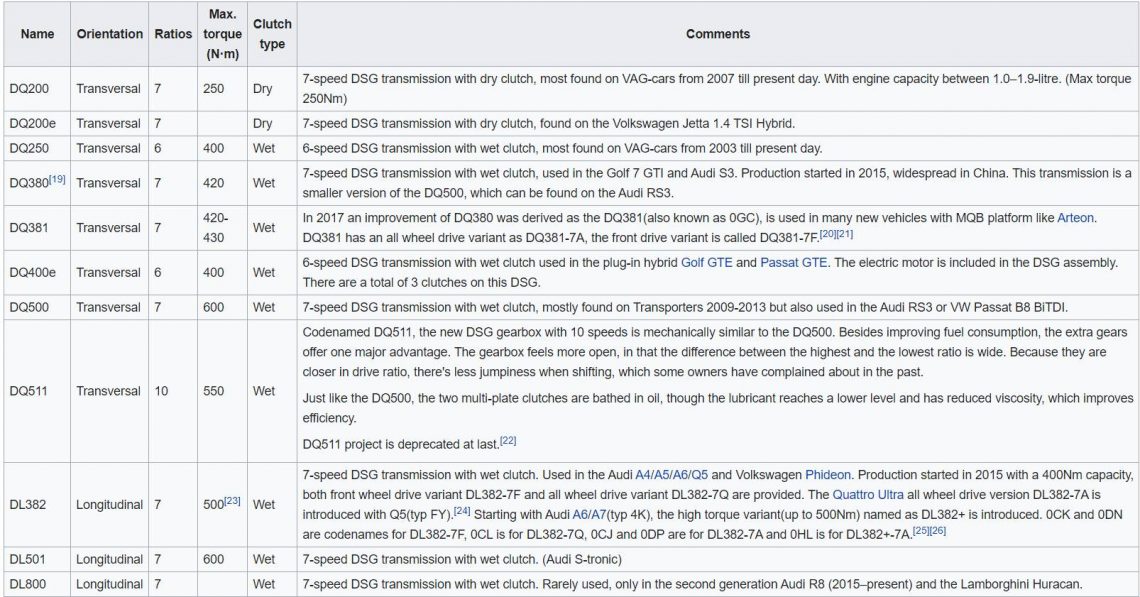 Advantages and disadvantages
Advantages
<![if !supportLists]>·        <![endif]>Better fuel economy (up to 15% improvement) than conventional planetary geared automatic transmission (due to lower parasitic losses from oil churning)[4] and for some models with manual transmissions;
<![if !supportLists]>·        <![endif]>No loss of torque through the transmission from the engine to the driving wheels during gear shifts;
<![if !supportLists]>·        <![endif]>Short up-shift time of 8 milliseconds when shifting to a gear the alternate gear shaft has preselected;
<![if !supportLists]>·        <![endif]>Smooth gear-shift operations;
<![if !supportLists]>·        <![endif]>Consistent down-shift time of 600 milliseconds, regardless of throttle or operational mode;
<![if !supportLists]>·        <![endif]>Unreliable: By design, it is not possible to make it as reliable as a conventional torque-converter automatic transmission. The slipping clutch mechanism has a limited lifespan;
<![if !supportLists]>·        <![endif]>Marginally worse overall mechanical efficiency compared to a conventional manual transmission, especially on wet-clutch variants (due to electronics and hydraulic systems);
<![if !supportLists]>·        <![endif]>Expensive specialist transmission fluids/lubricants with dedicated additives are required, which need regular changes;
<![if !supportLists]>·        <![endif]>Relatively expensive to manufacture, and therefore increases new vehicle purchase price;
<![if !supportLists]>·        <![endif]>Relatively lengthy shift time when shifting to a gear ratio which the transmission control unit did not anticipate (around 1100 ms, depending on the situation);
<![if !supportLists]>·        <![endif]>Torque handling capability constraints perceive a limit on after-market engine tuning modifications (though many tuners and users may exceed the official torque limits notwithstanding); (Later variants have been fitted to more powerful cars, such as the 300 bhp/350 Nm VW R36 and the 272 bhp/350 Nm Audi TTS.)
<![if !supportLists]>·        <![endif]>Heavier than a comparable Getrag conventional manual transmission (75 kg (165 lb) vs. 47.5 kg (105 lb));
<![if !supportLists]>·        <![endif]>While the first generation DSG fuel economy was up to 15% worse than a manual, the second generation DSG (current) gets better fuel economy than the manual transmission
Contact us today for inspections on those cylinder heads: BOOK ONLINE
Locate a VAGSPEC branch: